Air Cleaners
Air cleaners are designed to eliminate impurities in the air, even those impurities which are so microscopic that they are invisible to the naked eye.
In the spring or fall, most allergy symptoms are caused by pollen or mold spores, but other causes also play a part. In fact, up to 72 trillion allergens find their way into your home every day.
Mold spores can irritate the respiratory passages

Dander from pets can float in the air and cause reactions in sensitive family members

Dust mites can lurk in bedding, upholstery and almost any other soft material, generating irritating waste particles that can become airborne

Dust - the big culprit. The average home generates about 40 pounds of dust per year per 1,500 square feet of space

Homes are built more airtight than ever, trapping more allergens and irritants indoors
---
Enjoy up to 99.98% cleaner air
The world's most effective whole-house air filtration system
The CleanEffects not only outperforms even the best HEPA filter, it is designed to help deliver what we call Trane Air throughout your home - air that is heated as well as cooled, thoroughly conditioned, meticulously filtered and cleaned of up to an unprecedented 99.98& of airborne allergens that pass through the filter.
Removes up to 99.98% of allergens from the filtered air.

Traps particles down to 0.3 microns in size. (A human hair is about 75 microns in diameter.)

Up to 100 times more effective than a standard 1" filter.

Delivers cleaner air and more of it.

Performance has been verified by leading experts at the Harvard School of Public Health.
With the Trane CleanEffects as a a part of your total comfort system, you and your family can breathe easier than ever before.
---
Aprilaire Model 5000 Whole-House Air Cleaner with One Touch Control

Best for healthy homes: the Model 5000 Electronic Air Cleaner.
The Aprilaire Model 5000 Whole-Home Electronic Air Cleaner has been rated #1 three years running by a leading products ratings magazine for some very good reasons: It electronically charges particles and traps them like a magnet better than any other air cleaner - using 72 square feet of Aprilaire-branded filtering media. The Model 5000 is tried, true, and tested - delivering the highest efficiency possible.
---
Aprilaire Models 2210/2410 Whole-House Air Cleaners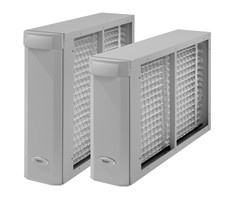 Aprilaire 2210 and 2410 Whole-House Media Air Cleaners deliver the most efficient, cost-effective air cleaning for your home.
Equipped with patented filtering media that can give you exceptionally clean air throughout your home - at a very affordable price.